In a dense neutrino environment, neutrino oscillations could exhibit collective behaviors or synchronized behaviors.
The key of such a behavior is the self interaction between neutrinos.
Phonon
In solid state physics, phonons are the collective behavior of atom or molecule oscillations. The necessary condition for such a behavior is the interaction between atoms or molecules.
7.1.1. Collective Phenomenon
Neutrino-neutrino interaction can be described by the following Feymann diagram.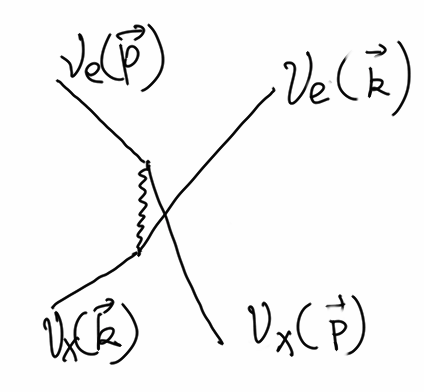 Electron neutrinos can exchange momentum with other neutrinos including itself. Suppose we have a muon neutrino moving forward, and vacuum oscillations,
At site 1, electron neutrino becomes muon neutrino after 1 oscillation length and moving top, while the muon neutrino coming from the left becomes electron neutrino. If they interact, their momenta will be exchanged, leaving a muon neutrino moving to the right and carrying the momentum of the neutrino moving up.
After the interaction at site 1, a electron neutrino is moving up and transforms to a muon neutrino at site 2. The interaction at site 1 will be repeated all the way along the trajectory. And we have all muon neutrinos coming out right of the sites which should be electron neutrinos if we only have vacuum oscillation.
This is a toy model of collective oscillation.
7.1.1.1. Why Do We Care About Collective Oscillations
When we are close to the surface to the protoneutron star, the neutrino number density and matter density are high, so that the collective oscillation could be suppressed. On the other hand, if we are too far away from the protoneutron star, the number density of neutrinos are too small for significant collective oscillations. [duan2010]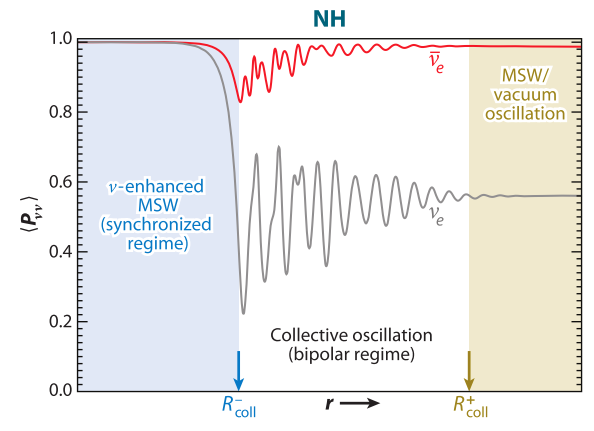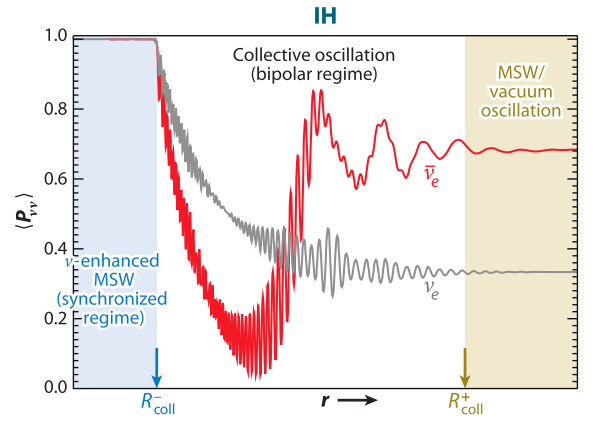 7.1.1.2. Spectral Split
A spectral split phenomenon has been observed in calculations.